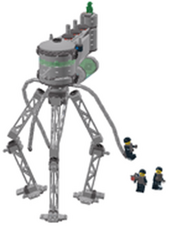 What does anybody think of a new LEGO Alien Invasion theme? LEGO is always making aliens in space, why not an attack on Earth? Of course ther would be some kind of agents protecting Earth. This model was built on LEGO Digital Designer and I was inspired by The War of the Worlds though I didn't watch or read it recently. This is just a MOC. What do you think?
Ad blocker interference detected!
Wikia is a free-to-use site that makes money from advertising. We have a modified experience for viewers using ad blockers

Wikia is not accessible if you've made further modifications. Remove the custom ad blocker rule(s) and the page will load as expected.