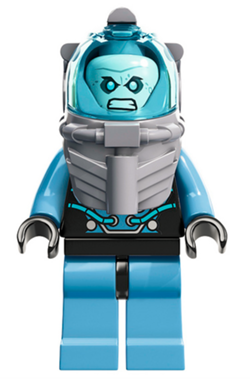 Ok,so there's been alot of info in the past few days,especially DC and Marvel.In this blog,i'll reveal my guesses to you about sets.
.UPDATE:I saw pics of comic con and noticed weird pairing of te figures.These are the pairings left to right like I seen in the pics:
1.Spiderman, Nick Fury and Venom
2.(To the Left of the first pairing)Nova, Beetle, Jameson, Doctor Doom (Possibly Daily bugle set)
3.Mr. Freeze, Aquaman, White Batman,(Mr. Freeze set! Confirmed!) Bane, C. Gordon (DK Set! confirmed!)
4.(To the right of the third pairings)Hooded Robin, Scarecrow, Inmate Joker, Penguin, Harleen Quintzel ( all haven't appeared so far..)
Although these pairings mean nothing,it could mean something.The third pairing to me is the most interesting.Maybe if you cut off bane and gordon from the end it equals artic batman with aquaman vs. mr.freeze.Maybe.The First pairing is the most logical.I'm thinking for the second pairing they didn't want to add another spidey,so they left it at that.Maybe a team up?spidey and nova vs. beetle and Doctor d.?The fourth group seems logical except no batman....No dark knight batman or winged batman in the group. UPDATE #2:I saw the dark knight the other day and I'm gonna change my opinion about the set.
Battle For the Bomb: Gordon, Batman, and Bane.$49.99-$69.99(Comes with The Bat, and a truck with the bomb inside.)
Update #3!
Sets have been revealed! Notice that 76001 and 76000 were in the third pairing above. 76000 Arctic Batman vs. Mr.Freeze - Aquaman on Ice Minifigures:Aquaman, Mr. Freeze, Artic Batman $19.99 or $29.99 Guessed 76001 Batman vs. Bane - Chase with TumblerMinifigs: Batman Bane Unconfirmed: C. Gordon. Around $39.99 or $49.99 What happened to 76002 and 76003? 76004 Spider Man - Hunting with Spider-Cycle (Pairing #1) AKA Spidey, Venom and Nick F. 76005 Spider-Man - Mission at Daily Bugle Minifigs: Spidey, Jonah J.,Nova, Beetle, Doctor doom 5! 76007 Super Heroes: Marvel 4 What the Heck? 76002 and 76003 are gonna be higher priced than tumbler sice the number is after tumbler.
UPDATE #4!
Arkham asylum! Daily bugle!, and tumbler coming soon. Thanks for reading!if you have any ideas,or anything possibly wrong with my guesses,feel free to tell!
Ad blocker interference detected!
Wikia is a free-to-use site that makes money from advertising. We have a modified experience for viewers using ad blockers

Wikia is not accessible if you've made further modifications. Remove the custom ad blocker rule(s) and the page will load as expected.