Welcome to another blog by yours truly! Let's get started!
Caption Contest 2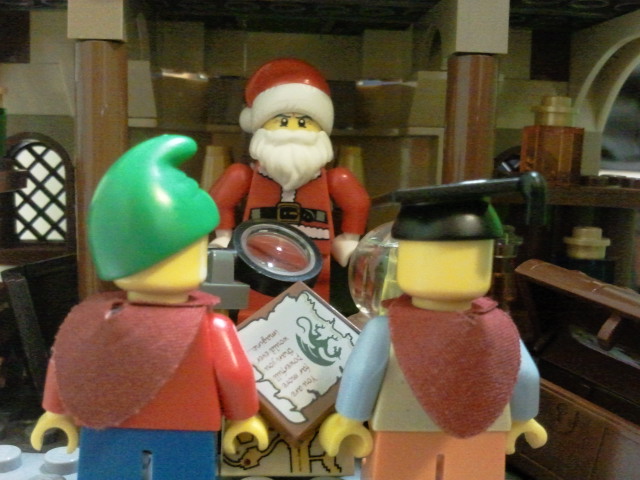 Hm...since there has been only ONE vote (by BrickFilmNut), I decided to do the judging on my own. There has been a second and third place award added from Caption Contest 2 onwards. So here are the winners: (Congratulations everybody!!)
First position: AwesomeKnight1234
Since he is got the only vote, he got the first position!
Winner of Caption Contest!

This award signifies that you have won Omega X.23's Caption Contest!

Congratulations!
His entry: Santa: "Why do you guys keep dressing up in those Smurf suits? GET IN YOUR ELF SUITS NOW!"
Congratulations AwesomeKnight1234!
Second position: TIE-Agent Charge, BrickfilmNut and SuperSpyX
Precisely the reason why I decided to do a voting event! So much great and humorous entries, how should I judge?
Santa: Hurumph! What's this mess doing in my office? By Agent Charge
Santa: "So, you thought you could fool around with the Hats department without being noticed?" By BrickfilmNut
Santa: You two broke my crystal ball! How am I gonna see who's naughty and who's nice?? No candy canes for a week! By SuperSpyX
They shall all receive this award:
Congratulations Agent Charge, BrickfilmNut and SuperSpyX!
Third position: Dachoppa3
After pondering over it for a while, I decided that the third position should go to Dachoppa3.
"Santa, we're going one strike. We won't make anymore toys until you double our annual salary." By Dachoppa3
He shall receive this award:
Congratulations Dachoppa3!
Participation Award
All others shall receive this award:
Caption Contest Participation!

This signifies that you have participated in Omega X.23's Caption Contest! Thank you very much for your participation and good luck next time!
Thank you everyone for participating!!!
More coming soon!!(judging of Caption Contest 3 and Caption Contest 4)
Ad blocker interference detected!
Wikia is a free-to-use site that makes money from advertising. We have a modified experience for viewers using ad blockers

Wikia is not accessible if you've made further modifications. Remove the custom ad blocker rule(s) and the page will load as expected.