NEWS ALEERRTTTT!!!! Calling all Lego fans!
There has been a sneak peak at the new/rumored 2013 Lego theme called "Galaxy Squad", which features insects as villains.

My thoughts:
I feel that Lego has been releasing a lot of animal themed sets/themes lately! Ninjago, Chima and now Galaxy Squad! The villains of G.S. seem quite interesting, including a new molded head and what seems like a new wing piece. The mosquito vehicle shown is instantly recognizable as a insect vehicle and the parts used are also quite creative too!
Credits
User:Clone gunner commander jedi and User:LEGO2013Helper for the following pictures: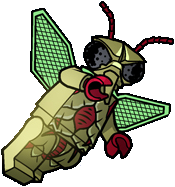 Enjoy and discuss! :)
Regards,
Omega X
Ad blocker interference detected!
Wikia is a free-to-use site that makes money from advertising. We have a modified experience for viewers using ad blockers

Wikia is not accessible if you've made further modifications. Remove the custom ad blocker rule(s) and the page will load as expected.