Hello and here's Omega X! Today, I will be discussing the topic of minifigures. You may voice your opinion in the comments below!
What are minifigures?
Strangely enough, the answer to this simple question is rather complex. Nowadays, minifigures come in all shapes and sizes, big and small, tall and short. Let's trace the minifigures to their source: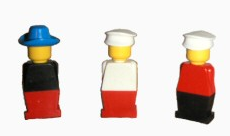 As you can see from the above, the most basic minifigure barely consists of any arms and legs. Compare it, for example, to minifigures revealed recently at the New York Toy Fair:
The minifigures nowadays are almost indistinguishable to the original minifigures. They are more detailed, have a variety of new molds for almost all parts of them. So, lets go back to the question, what is a minifigure? Personally, I count minifigures as figures that have a minifigure torso. So, I don't really count droids, microfigures etc as minifigures. Not to mention creatures like the Rancor, Tauntaun etc No offence, but it's my own opinion. So, what do you count as a minifigure? You may voice your opinion in the comments below!
Minifigures-Now
Almost every minifigure released by Lego now has been very detailed. From anything from a random Chima minifigure to something SW, LR, GS, LOTR, Friends, they are detailed beyond anything released in the past. The minifigures are also growing increasingly popular among collectors(including me). The sheer popularity of them is obvious in the release of the Collactable Minifigures and SW Battle Packs, which includes lots of new molds and minifigures. Something amusing I noticed in the New York Toy Fair, is that in almost every set, there is at least a minifigure that has a flashing 'NEW!!' sign beside them, some even has the sign beside every minifigure included. But, is that a boon or a bane(pro or con)? Please discuss in the comments below!
My personal opinion--Negative
In response to my question above, I would consider it a con. I do appreciate Lego's effort to make minifigures as detailed as possible, but it seems that the standard of Lego's sets-the main essence of Lego-decreasing with increasing detail. I find this rather disappointing. Some sets's only attraction, the only motivation for buyers to buy or collect, are the minifigures. As usual, this is only my own opinion, no offence intended.So, what do you think? You may voice your opinion in the comments below!
Regards, Omega X
I may discuss some other topics in the future. But for now, here's Omega X saying: "The second half of the year is going to be very busy for me!" :P
Regards,
Omega X
Ad blocker interference detected!
Wikia is a free-to-use site that makes money from advertising. We have a modified experience for viewers using ad blockers

Wikia is not accessible if you've made further modifications. Remove the custom ad blocker rule(s) and the page will load as expected.