Hello and welcome to the update of Us as Minifigures. Yes, I know that there has been a few months delayed, I apologise for that.
My apologies
My sincerest apologies about the unfortunate delay. It was partially caused by me not able to dig out some pieces(I haven't found them yet). Anyway, (finally) here is Batch 1
P.S.: Sorry Knight, your figure will have to wait
Batch 1
Thegreengrappler, Irnakk, SilverLego and Legoboy9373
Bonus
Batch 2 and 3 are finished! Here are some teasers...
Can you match them to the figures in Batch 2 and 3?
P.S.: Batch 2 and 3 are not complete. I did not have enough time to photograph them yet.
Also, a bonus figure...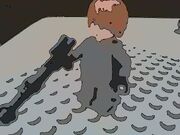 Another thing, I can still take requests...
Omega X
Ad blocker interference detected!
Wikia is a free-to-use site that makes money from advertising. We have a modified experience for viewers using ad blockers

Wikia is not accessible if you've made further modifications. Remove the custom ad blocker rule(s) and the page will load as expected.