Well, after seeing NuffSaid1995's blog, I became inspired to do something like that.
So, let's start with me first!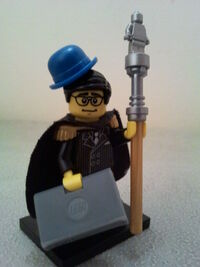 Explanation:
Choice of torso, cape and bowler hat: I'm a formal person
Staff: Signifies my interest in LEGO
Laptop: Signifies my interest/addiction to Brickipedia :D
So...I will be able to take requests from you guys. Please state how you want your minifigure too be like. Five requests will make a batch. Thank you.

Batch 1:
EDIT: Batches 1 and 2 confirmed.
Batch 1: Thegreengrappler, Awesomeknight1234, Irnakk, SilverLego and Legoboy9373.
*PLEASE NOTE FOR BATCH 1: Kingpinn2, sorry I don't really understand your request. Please state your request again. Thank you. You shall be moved to Batch 1. My apologies,
Batch 2:ComicRus, Darth henry, CzechMate, DCcomicsFan and Wertys761.
*PLEASE NOTE FOR BATCH 2:Wertys761, please state how you want your minifigure to be like. Thank you. ComicRus will be moved to Batch 2.
Batch 3(completed) :Legoindy7734, CM4S, LSCStealthNinja, LazerzSoH and BackToTheFuturama86LazerzSoh, please state how you want your minifigure to be like).

Regards,
Omega X
Ad blocker interference detected!
Wikia is a free-to-use site that makes money from advertising. We have a modified experience for viewers using ad blockers

Wikia is not accessible if you've made further modifications. Remove the custom ad blocker rule(s) and the page will load as expected.