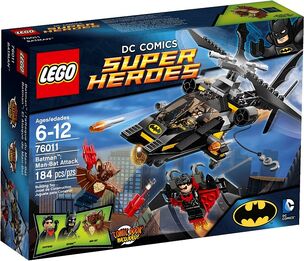 DC Comics Superheroes Reviews
Hello people that are on my Page, I am making a review of the LEGO Batman: Man-Bat Attack coming in 2014. Now I really have to say I am going to love this set when I get it with my Pocket Money, the one thing that caught my eye at first was ... The Bat-Copter, now of course I geek out a lot about these LEGO Batman sets cause I am a Batman Fanboy. Man-Bat looks kinda the same as the Vampire Bat from Series 8 of the Minifigures Collection. Batman, he has the same costume as 6863 Batwing Battle Over Gotham City. One of the Newer and Improved is Nightwing, now if you don't come from LEGO Universe Creation Lab I will be creating a LEGO Series about Dick Grayson and how he adopted Bludhaven. So yeah, you can see that Man-Bat is throughing bombs at Nightwing (Who has a Winged Backpack), Batman might have picked up a signal while getting a packet of Party Mix Lollies for Tim Drake, and then he goes in the Bat-Copter and so on and so forth ... the point I'm trying to prove here is that I really like the looks of the set, so I hope you think my Review is good, cause I have a bit of humor in it.
Ad blocker interference detected!
Wikia is a free-to-use site that makes money from advertising. We have a modified experience for viewers using ad blockers

Wikia is not accessible if you've made further modifications. Remove the custom ad blocker rule(s) and the page will load as expected.