A monstrous 8.5 foot tall Dinosaur has taken up residence in a downtown San Francisco gallery. It would be terrifying if it wasn't made out of 62,500 LEGO pieces! The blue and green dinosaur was designed by LEGO using 3D digital software provided by
Autodesk
, who are proudly displaying the beast in their
gallery
as an example of the marvels that can be created using their design technology.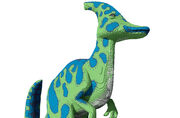 According to Autodesk, LEGO creates digital prototypes using their software so that they can, "assess ideas for structural feasibility, create realistic construction schematics, and move easily into fabrication."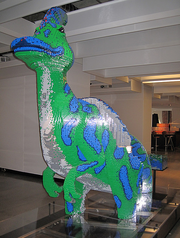 It's probably too expensive for the common LEGO enthusiast, as are 62,500 pieces, but how cool would it be to create massive LEGO prototypes on your computer before setting to work? Imagine the possibilities!
If you're in the Bay Area, stop in to check out this extremely detailed dinosaur creation, because it's absolutely magical up close. Speaking of magic, if you're interested in winning a Harry Potter Forbidden Forest LEGO set, enter in this contest over at the Easy Crafts Wiki. Good luck!
Ad blocker interference detected!
Wikia is a free-to-use site that makes money from advertising. We have a modified experience for viewers using ad blockers

Wikia is not accessible if you've made further modifications. Remove the custom ad blocker rule(s) and the page will load as expected.