Hey peoples of Brickipedia (Brickipedians :P), I am doing another wave of sigfigs. But I am going to need a list. I got a few so far, so I need requests. Remember the rule: If you dont have a sigfig of you created by you then you wont get a sigfig no matter what. This is actually gonna be my last wave. So, please dont complain if I dont make you. If you request a fig, without having one, then i wont make you. So deal with it. So lets comment some requests, shall we?
Saburo
Macy
Bug
Soup
PreferPigs
LSC
Sparrow
MSD
Npg
---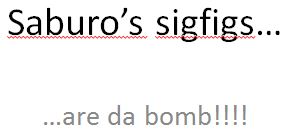 ---
Ad blocker interference detected!
Wikia is a free-to-use site that makes money from advertising. We have a modified experience for viewers using ad blockers

Wikia is not accessible if you've made further modifications. Remove the custom ad blocker rule(s) and the page will load as expected.