Hey there. This is my blog where I will continuously update with recent LEGO News, Sales and Deals, and more. I know there are already news blogs, but I decided to make my own. :D Skdhjf(Talk!) 07:41, January 29, 2012 (UTC)
News
LEGO Shop at Home currently offers 8128 Cad Bane's Speeder for $29.99 USD; which is a very great price I would say for the set.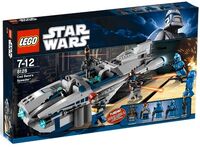 LEGO vs. Best-Lock Lawsuit 07:41, January 29, 2012 (UTC)
Controversy over LEGO Friends lately 07:41, January 29, 2012 (UTC)
If you search "LEGO Friends" in Google news lately, there has been a lot of controversy over LEGO's new theme: Friends for some interesting things. O_O http://www.latimes.com/news/politics/topoftheticket/la-na-tt-lego-friends-20120125,0,4308141.story
Ad blocker interference detected!
Wikia is a free-to-use site that makes money from advertising. We have a modified experience for viewers using ad blockers

Wikia is not accessible if you've made further modifications. Remove the custom ad blocker rule(s) and the page will load as expected.