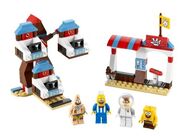 Hello there i have 3 topics 2 talk about!
=My return
Well today i returned after a LOOONG abssence to look at the wiki now! and well it is great honetly and well i returned cos i was wondering:What are the new lego sets! and well i came back!
New dog
Yeah...Yesterday i got a new puppy dog! called tahu! he is a pug and he loves sitting on me and well...Do you have a dog\puppy
Lego stories wiki
Well now im a admin on there but...Im one of the few if the only user active on there so do you want the come on there and make up some stories?...WELL COME ON DOWN TO LeGO STORIES WIKI! link right about...http://legostories.wikia.com/wiki/Bionicle_battles_Series_2_Episode_5%3A_Journeys_end%3F.....#Two_weeks_later there! and now for some pics!
Picture of bordemness!
Ad blocker interference detected!
Wikia is a free-to-use site that makes money from advertising. We have a modified experience for viewers using ad blockers

Wikia is not accessible if you've made further modifications. Remove the custom ad blocker rule(s) and the page will load as expected.