---
---
Minecraft The End revealed on Facebook
Source(s): https://www.facebook.com/LEGOMinecraft/photos/a.299460193452063.72516.250707394994010/690343807697031/?type=1&theater
Author:ToaMatau2004
LEGO has recently posted a picture on Facebook that shows Steen Sig Andersen with the newest set he designed, 21107 The End. The set appears to include the Ender Dragon and about four Endermen.It appears that pages for these two characters will need to be created on this wiki
---
Summer Friends set pictures discovered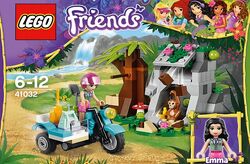 Source(s): http://www.tesco.com/direct/search-results/results.page?catId=4294959722&searchquery=lego+friends&SrchId=4294967294#prevTile=pt-438-0707_438-0707&pg=3 Tesco
Author:ToaMatau2004
Pictures for the summer Friends sets were posted on the British retailer website Tesco.The point of this wave appears to be about the Friends rescuing animals.
---
Ad blocker interference detected!
Wikia is a free-to-use site that makes money from advertising. We have a modified experience for viewers using ad blockers

Wikia is not accessible if you've made further modifications. Remove the custom ad blocker rule(s) and the page will load as expected.